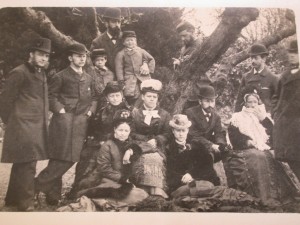 There are over 80 active local history groups in Oxfordshire, whose members carry out research, publish newsletters and journals, mount exhibitions, help schoolchildren to learn about their area's history, and enjoy programmes of outings and illustrated talks from invited speakers.
Back to the welcome page.
If the details of your group below are incorrect, please contact membership@olha.org.uk
Abingdon Area Archaeology and History Society, Mr Tim Barnett, secretary@aaahs.org.uk, www.aaahs.org.uk
Adderbury History Association, Mr Phil Mansell, 2 Long Wall Close, Adderbury, Banbury, OX17 3FF, philandbmansell@hotmail.com, 01295 812125, http://historyofadderbury.co.uk/
Ascott Martyrs Study Group/Ascott Martyrs Education Trust, Ms Carol Anderson, carol195@hotmail.co.uk, www.ascottmartyrs.co.uk
Ashbury Local History Society, Mrs Marion Turner, Claremont, Ashbury, Swindon, SN6 8LN, 01793 790181, www.ashbury.org.uk/organisations-2/organisations
Aston History Group, Mr Martin Bowley, 56 Cote Road, Aston, Bampton, OX18 2DU, aston.historygroup@hotmail.co.uk, 01993 850440, www.astonoxon.com/history-group.html
Banbury Historical Society, Mr Simon Townsend, Banbury Museum, Spiceball Park Road, Banbury, OX16 2PQ, simon.townsend@banburymuseum.org, 01295 753781, https://banburyhistoricalsociety.org
Bartons History Group, Mr Michael Horwood-Smith, 7 Dorn Close, Middle Barton, Chipping Norton, OX7 7HD, aychess7@aol.com, 07818 426422, www.bartonshistorygroup.org.uk
Bensington Society (History Group), Mrs Sue Brown, 51 St Helens Avenue, Benson, Wallingford, OX10 6RU, bensingtonhistory@gmail.com, 01491 837885, www.bensingtonhistory.org
Bicester Local History Society, Mrs Sally James, 14 George Street, Bicester, OX26 2EG, sallyjames46@hotmail.com, 01869 243804, www.blhs.org.uk
Blewbury Local History Group, Ms Audrey Long, Spring Cottage, Church Road, Blewbury, Didcot, OX11 9PY, audreyrosettalong@gmail.com, 01235850427, www.blewburyhistory.org.uk
Bloxham Village History Club, Mr Ian Myson, 23 Colegrave Road, Bloxham, OX15 4NT, 01295 720951, ian_myson@hotmail.com, https://bloxham.info/broadsheet/bloxham-village-history-club-24/
British Modern Military History Society, Mr Andy Cockeram, 11 Wood Green, Woodcote, RG8 0QQ, andy.cockeram@bmmhs.org, www.bmmhs.org
Burford Tolsey Museum & Archive, Brigadier Clendon Daukes, Signet Farmhouse, Signet, Burford, OX18 4JQ, cddaukes@gmail.com, 01993 823533, https://www.burfordtolsey.org
Centre for Banburyshire Studies, Ms Angela Kingdom, Library Manager, Banbury Library, Marlborough Road, Banbury, OX16 5DB, angela.kingdom@oxfordshire.gov.uk, 01295 262282, https://www.oxfordshire.gov.uk/residents/leisure-and-culture/libraries/find-library/banbury-library
Chalgrove Local History Group, Mrs Gill Lester, 2 Farm Close, Chalgrove, OX44 7RL, lestergill@proton.me, 01865 890451, https://chalgrovelocalhistorygroup.org.uk
Charlbury Society, Nikki Rycroft, 2 North Lodge, Cornbury Park, Charlbury, OX7 3HE, chair.charlsoc@gmail.com, www.charlbury.info/community/22
Charney Bassett History Group, Mr David Sibbert, "Malia", Longworth Road, Charney Bassett, OX12 0ET, davidsibbert@btinternet.com, 01235 868734, https://history.charneybassett.org.uk/
Chipping Norton History Society, Mrs Janice Paxton, jtpaxton6@gmail.com, www.chippingnortonmuseum.co.uk
Clanfield & Bampton Historical Society, Ms Sue Mattingley, c/o The Carter Institute, Clanfield, Bampton, OX18 2SR, sueatpakiri@gmail.com, 01367 810788, https://www.bamptonarchive.org/
Cowley History Group [closed 2021]
Cropredy Historical Society, Miss Frances Whitaker, The Barn, Kyetts Corner, Cropredy, OX17 1VW, f.61whitaker@btinternet.com, 01295 758448, https://cropredyvillage.info/cropredyhistory
Cumnor & District History Society, Mr Graham Ansell, 4 Yarnells Hill, Oxford, OX2 9BD, unclegrimble@btinternet.com, 01865 724808, http://users.ox.ac.uk/~djp/cumnor/
Deddington & District History Society, Mr Gareth Richard, Carrow House, Holcombe Gardens, Deddington, OX15 0AD, gareth.richard@btinternet.com, 01869 337687, https://www.deddington.org.uk/directory/clubs-societies/history-society-deddington-district/
Denchworth Local History Group, Mrs Susan Brandon, Bakehouse Cottage, Denchworth, Wantage, OX12 0DU, sue.brandon1@gmail.com, 01235 868451.
Didcot & District Archaeological & Historical Society, Mr David Taylor, 26 Fairacres Road, Didcot, OX11 8QG, dave@zygal.co.uk, 07843421029, www.ddahs.org.uk
Dorchester Historical Society, Miss Gail Thomas, 14 Herringcote, Martins Lane, Dorchester on Thames, OX10 7RD, gail.thomas8@btopenworld.com, 01865 341977, www.dorchester-on-thames.co.uk/posts/clubsociety/dorchester-historical-society/
Enstone Local History Society, John Pritchard, Manor House, Church Enstone, Chipping Norton, OX7 4NL, johnch.pritchard@tiscali.co.uk, 01608 678175, www.enstoneparish.org/his13/ep5.htm
Eynsham History Group, Mr Nigel Swietalski (Chairman), nigel1469@hotmail.co.uk, http://eynshamhistorygroup.org.uk
Finstock Local History Society, Mr Mike Breakell, mjbreakell@aol.com, http://finstocklocalhistory.blogspot.com
Friends of the Oxfordshire Museum, Mr David Wharton, Oxfordshire Museum, Park Street, Woodstock, OX20 1SN, contact@friendsoftom.org.uk, https://friendsoftom.org.uk/
Friends of the Vale & Downland Museum Centre, Ms Penny Williams, FVDM Committee, Vale & Downland Museum, 19 Church Street, Wantage, OX12 8BL, friendsofvdm@gmail.com, www.friendsofthevdm.org.uk
Friends of Tom Brown's School Museum, Mrs Jo Coad, 24 Craven Common, Uffington, Faringdon, SN7 7RN, uffingtonmuseum@gmail.com, www.museum.uffington.net
Goring Gap Local History Society, Mrs Janet Hurst, 6 Nun's Acre, Goring on Thames, RG8 9BE, goringgaphistory@gmail.com, 01491 871022, www.goringgaphistory.org.uk
Great Haseley History Group, Ms Jane Simcox, 62 Latchford Lane, Great Haseley, OX44 7LE, jane@janeanddavid.co.uk, 01844 279631, www.greathaseleyhistorygroup.co.uk
Hanney History Group, Mr Peter Belk, hhgsecretary@gmail.com, http://hanneyhistory.org.uk/
Harwell Parish History Group, Mrs Patricia Cooke, patacookeevergreen@gmail.com, www.harwellvillagehall.co.uk/history-group
Henley on Thames Archaeological & Historical Group, Ms Ruth Gibson, 7 Vicarage Road, Henley-on-Thames, RG9 1HF, HenArchAndHistGrp@gmail.com, 01491 572271, https://hahg.org.uk/
Hook Norton Local History Group, Mr David McGill, Sunnybank Farmhouse, Scotland End, Hook Norton, OX15 5NR, scotlandend@btinternet.com, 01608 737103, http://hook-norton.org.uk/groups/hook-norton-local-history-group/
Hornton History Group, Mr Kevin Wain, The Swallows, Eatsgate, Hornton, Banbury, OX15 6BT, kawain@zoho.com, 01295 670716, http://www.hornton-history.co.uk/
Iffley History Society, Mr Paul Butler, 92 Church Way, Iffley, Oxford, OX4 4EF, mpetipa@outlook.com, 01865 777048, http://iffleyhistory.wordpress.com
Kennington History Society, Malcolm & Tricia Smith, malcolm.p.smith39@gmail.com, 01865 735788, http://kennington-pc.gov.uk/organisations-and-clubs/history/history-society/
Kidlington & District Historical Society, Mrs Melanie Wakefield, 160 The Moors, Kidlington, OX5 2AD, melanie_wakefield@hotmail.com, 01865 460926,  www.kidlingtonhistory.org.uk
Kirtlington & Bletchingdon Historical Society, Mrs Jan Shackleton, Chapel House, Bletchingdon Road, Kirtlington, OX5 3HF,  shackletonuk@gmail.com, 01869 351115, www.kirtlingtonvillage.co.uk/historical-society
Launton Historical Society, Cathy Procopiou and Gwen Skinner, cathyprocopiou@hotmail.com, gwen.skinner@hotmail.co.uk, www.launton.org/organisations/local-history/
Littlemore Local History Society, Buffy McClelland, history.littlemore@gmail.com, https://littlemorelocalhistorysociety.wordpress.com

Long Wittenham Local History Group, Mrs Janet Haylett, 8 Westfield Road, Long Wittenham, OX14 4RF, familyhaylett@yahoo.com, 01865 407382, http://www.longwittenham.com/clubs-and-groups/history-group/
Longworth & District History Society, Mrs Pam Woodward, 2 Cherry Tree Close, Southmoor, Abingdon, OX13 5BB, prwoodward@btinternet.com, 01865 820500, http://www.kbsonline.org.uk/clubs-and-societies
Lord Robartes Regiment [The Sealed Knot], Mrs Verna Wass, verna.wass@btinternet.com, http://www.lordrobartes.com/
Lower Windrush Historical Society (formerly Standlake & District Historical Society), Mrs Jenny Beilby, lwhscommittee@gmail.com, 01865 883739, https://en-gb.facebook.com/groups/347822139054606/
Marcham Society, Mr Simon Blackmore, 2 Walnut Mews, Mill Road, Marcham, OX13 6NZ, spblackmore@googlemail.com, 01865 302090, www.marchamsociety.org.uk
Mercia Project, Mr Christopher Gowers, 1 Rowland Close, Wolvercote, OX2 8PW, mercia.project@yahoo.co.uk, 01865 512047.
Middleton Cheney History Society, Mrs Chris Wells, chrissquirrel@btinternet.com, 01295 710076, https://www.middletoncheney.org.uk/findmynearest,713567.html
Minster Lovell History Club, Mr Graham Kew, 130 Burford Road, Minster Lovell, OX29 0RB,  kewprints@chessmail.co.uk or grahamkewprints@gmail.com, 01993 775262, http://www.minsterlovellexperience.com/index.php?inc=events
Mixbury History Group, Mr Bruce Epps, 4 Evenley Road, Mixbury, NN13 5RG, bruceepps49@gmail.com, 01280 848672, https://www.mixburyhistory.co.uk
North Leigh History Group, Mrs Diana Power, Ting Tang Cottage, New Yatt Road, North Leigh, OX29 6TT, power618@btinternet.com, 01993 882301.
Oxfordshire Buildings Record, Mr David Clark, 21 Walton Street, Oxford, OX1 2HQ, secretary@obr.org.uk, 01865 516414, www.obr.org.uk
Oxfordshire Family History Society, Mr Christopher Fance, meetings@ofhs.uk, www.ofhs.uk
Oxfordshire Gardens Trust, Ms Jane Carlton Smith, secretary@ogt.org.uk, www.ogt.org.uk
Otmoor Archaeological & Historical Society, Mr R Dunn, Arlington, Noke, OX3 9TX, pcdunn@btinternet.com, 01865 372264, http://oxford-consultants.tripod.com/otmoor_archealogical.htm
Radley History Club, Mr Nicholas Lawrence, 81 Foxborough Road, Radley OX14 3AE, secretary@radleyhistoryclub.org.uk, www.radleyhistoryclub.org.uk
Ralph Mann Archive, Kingham, Mr Mike Davies, Meadowcroft, Field Road, Kingham, OX7 6YR, mikedvd@hotmail.com.
Ramsden Parish Domesday Project, Ms Holly Deans, Malt House Farm, High Street, Ramsden, Chipping Norton, OX7 3AU, deans.ramsden@btinternet.com, 01993 868645, www.ramsdenvillage.co.uk/history
Shrivenham Heritage Society, Mr Neil Maw, 58 Weedon Road, Coleview, Swindon, SN3 4EN, neil.maw@virginmedia.com, http://www.shrivenhamheritagesociety.co.uk/
Sibfords History Society, Mrs Diana Hughes, Meadow View, Sibford Ferris, Banbury, OX15 5RG, dianahughesonline@gmail.com, 01295 780506, https://thesibfords.uk/clubs/shs
Soldiers of Oxfordshire Trust (SOFO), Ms Sue Cross, SOFO Museum, Park Street, Woodstock, OX20 1SS, museumoffice@sofo.org.uk, 01993 810 210, www.sofo.org.uk
South Stoke Historical Society, Ms Linda Gatto, Ditton Cottage, South Stoke, Goring, RG8 0JS, l.gatto@btinternet.com, 01491 874308, www.southstoke.org.uk/in-around-south-stoke/history-of-south-stoke/
Standlake & District Historical Society – see Lower Windrush Historical Society
Stanford in the Vale & District Local History Society, Mrs Mary Vizoso, Stones Farmhouse, Faringdon Road, Stanford in the Vale, SN7 8NP, mary_vizoso@tiscali.co.uk, 01367 718687, www.stanford-in-the-vale.co.uk/clubsoc.shtml
Steeple Aston Village Archive Trust, Mr Martin Lipson, West Grange, Grange Park, Steeple Aston, OX25 4SR, martin.lipson@btinternet.com, 01869 347046, www.steepleastonarchive.org.uk
Steventon History Society, Mr George Jenkinson, george.jenkinson@gmail.com, www.steventonhistory.co.uk
Stratton Audley Local History Society, Mrs Dorothy Howarth, 12 Cavendish Place, Stratton Audley, OX27 9BN, dot.howarth@btinternet.com, 01869 277694, http://strattonaudley.org/the-village/history/historical-society/
Sutton Courtenay Local History Society, Mr John Talbot, jochta@gmail.com, www.sclhs.org.uk.
Tackley Local History Group, Mrs Sue Ashton, 10 St Nicholas Road, Tackley, OX5 3BH, tackleyhistory@gmail.com, 01869 331335, www.tackleyhistory.org.uk
Thame Historical Society, Mr Colin Sear, 12 Park Terrace, Thame, OX9 3HZ, csear58229@aol.com, 01844 212336, http://www.thamehistoricalsociety.org.uk/
Vale of the White Horse Industrial Archaeology Group [closed Summer 2019]
Wallingford Historical & Archaeological Society, Dr Katharine Keats-Rohan, Linacre College, Oxford, OX1 3JA, katharine.keats-rohan@history.ox.ac.uk, www.twhas.org.uk
Weston-on-the-Green Society, Diane Bohm, Oddtymes, Weston-on-the-Green, OX25 3QX, dianebohm@gmail.com, 01869 352006, www.wotg.org.uk/Weston_on_the_Green_Society.htm
Wheatley Village Archive, Mr Michael Heaton, Post Office Cottage, 48 High Street, Wheatley, OX33 1XX, michael@wheatleyarchive.org.uk, 01865 425909, https://wheatleyarchive.org.uk/
Whitchurch & Goring Heath History Society, Mrs Vicky Jordan, Little Langtree, Hill Bottom, Whitchurch Hill, vickyjordan5@hotmail.com, 0118 984 3260, www.whitchurchonthames.com/groups/history.html
Witney Museum & Historical Society, Miss Beverley Sherwood, admin@witneymuseum.org.uk, www.witneymuseum.org.uk
Wolvercote Local History Society, Ms Gillian Chapman, gillychapmanox@gmail.com, 01865 513042, https://wolvercote.org/history-society/
Wootton, Dry Sandford & District History Society, Mr Bob Goodenough, bob.goodenough@gmail.com, www.history-society.org
Wychwoods Local History Society, Mr Roger Watts, 16 Wellington Way, Milton-under-Wychwood, OX7 6RG, mail@wychwoodshistory.uk, 01993 684286, www.wychwoodshistory.uk