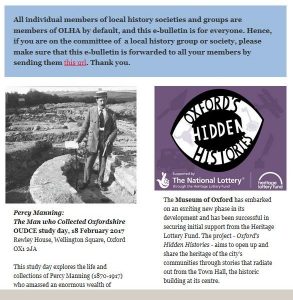 We send out a monthly e-bulletin to keep OLHA members up to date with news and current events around the county.
To see the latest issue of the e-bulletin click here.
(You can also subscribe via the tab in the top left-hand corner of the e-bulletin screen.)
The OLHA e-bulletin has all sorts of fascinating stuff in it … the links and goodies it contains are a particularly good way into all sorts of local historical waters (mainstream and backstream) that I probably wouldn't otherwise have explored.  Peter Webber, Kidlington, August 2020.
If you have information for the e-bulletin, please contact Liz Woolley on membership@olha.org.uk.
Back to the welcome page.