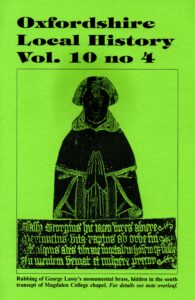 Join OLHA and receive Oxfordshire Local History once a year, with articles on a wide range of local history topics, notes on research in progress and book reviews.
View the contents page of the most recent issue of Oxfordshire Local History (Vol 10, no 4, spring 2022).
Explore a searchable index of all past OLHA journal articles, book reviews, notes and authors. Articles can be downloaded as pdfs.
Copies of some back issues dating from 1997 onwards are available at £2 per copy plus P&P. To find out whether the issue(s) you would like are available, contact journal@olha.org.uk.
Oxfordshire Local History can be consulted at the Oxfordshire History Centre, at the OUDCE library at Rewley House and at the Bodleian Library in Oxford.
The journal is primarily, though not exclusively, a platform for amateur local historians. The editor Vanessa Moir is always ready to discuss potential articles; if you would like advice about publishing your work, contact journal@olha.org.uk.
Back to the welcome page.